Miss Tressa Amirthanayagam
MBBS (Hons) MA (Cantab) FRCS (Tr&Orth)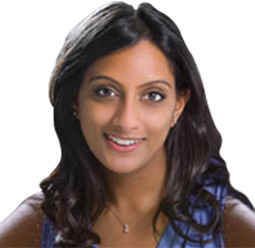 Book an Appointment
Miss Tressa Amir is a consultant orthopaedic surgeon with a special interest in shoulder, elbow and upper limb conditions. Her main surgical interests include advances in the arthroscopic (keyhole) treatment for rotator cuff injuries and dislocations of the shoulder as well as joint replacement for shoulder arthritis.
Having qualified from both Cambridge University and Imperial College London, she completed her specialist orthopaedic training on the North-West Thames rotation in London. This gave her the opportunity to work with many world renowned upper limb surgeons. Prior to becoming a consultant, she underwent a one-year advanced UK training fellowship in shoulder, elbow, wrist and hand surgery at the Robert Jones and Agnes Hunt Orthopaedic Hospital in Oswestry.
She is on the GMC specialist register for orthopaedic surgery and is a member of the British Shoulder and Elbow Society (BESS). She is a Consultant Orthopaedic Surgeon at West Hertfordshire Hospitals NHS Trust and the clinical lead for Upper Limb.
Miss Amir was appointed as a Welcome Trust Fellow in 2013 and undertook research on rotator cuff sparing approaches for total shoulder replacement. She was also involved in the development of a new total shoulder replacement with the Biomechanical Engineering Department at Imperial College. Her work has been published and presented internationally.
Miss Amir is involved in the training of higher surgical trainees. She teaches on a number of orthopaedic and trauma courses nationally and is an AO Faculty member. She enjoys teaching and explaining complex principles simply and transfers these skills to help ensure patients have sufficient knowledge and understanding to make informed decisions about their treatment.
Clinics are held at Watford General Hospital on Wednesdays. Miss Amir operates In Watford and St. Albans.
Personal profile
Miss Tressa Amir enjoys spending time with her family and learning new things. Likes travelling, photography and has recently taken up silversmithing.
Qualification
Royal College of Surgeons
MA (Cantab) / University of Cambridge / 2004
Cambridge
MBBS (Hons) / Imperial College / 2003
University of London
Practising at:
Watford General Hospital, St Albans City Hospital
Speciality:
Orthopaedics
Subspeciality:
Shoulder, Elbow & Upper Limb Surgery
Special clinical interests:
Arthroscopic (keyhole) shoulder surgery for rotator cuff tears and dislocations.
Shoulder and elbow joint replacement surgery.
Shoulder sports injuries and fractures.
Current posts (NHS, University):
NHS Consultant Orthopaedic surgeon - West Hertfordshire Hospitals NHS Trust
Watford General Hospital, St Albans City Hospital & Hemel Hempstead Hospital
Year of first medical qualification:
2003
Current membership(s) of professional, national and regional bodies:
British Orthopaedic Association
British Elbow and Shoulder Association
Fellow of the Royal College of Surgeons of England
British Medical Association
General Medical Council
AO Trauma
Professional leadership
Clinical Lead for Upper Limb, West Hertfordshire Hospitals NHS Trust
Enhanced Recovery Lead, West Hertfordshire Hospitals NHS Trust